Bio
 The Queen Of Spades is an Estonian rock band formed in Tallinn. From hard-hitting guitar riffs, to mid-song jams, to soft melodic ballads, the band infuses different aspects of various genres. The Queen Of Spades, is a combination of all your favourite classic rock bands, with a modern voice.
The band came into existence when guitarist/vocalist Oskar, after years of writing material, decided to find musicians with the same drive and aspirations. After a series of lineup changes, Oskar convinced his friend Riho to start playing the bass, instead of guitar. Finally, in May of 2016, they joined forces with Siim, a talented and well-known drummer in the Tallinn music scene. Each member brings their own unique set of skills and personality to the music, where they then convert it all to incredibly energetic live performances.
In 2018, The Queen Of Spades had the privilege of being the opening act for the legendary Deep Purple in Tallinn at their "The Long Goodbye Tour". The Queen Of Spades have also signed a Management Deal with Global Eyes Entertainment(Nashville) and Bunny Shoes Music(Tallinn) and they are currently finishing their debut LP that will be out in the beginning of 2019.

 
  The Queen Of Spades :  Oskar  Malleus - Guitar, Vocals                                                    Riho Tähemaa - Bass Guitar
                                          Siim Koppel - Drums,Percussion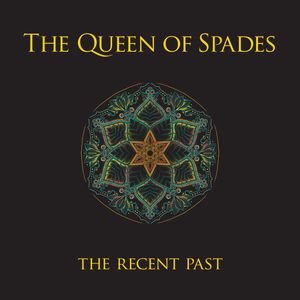 The Making Of "The Recent Past"
We had just finished our EP and we were getting ready to play some really great shows over the summer. In April of 2017 our good friend Ken invited us to perform on his new video podcast called "The Moon Station". They had just finished building their studio and we had the honor to be the first guests on the show. Then we thought, why don't we record a whole album at this studio. About one month later they were forced to move out of the studio due to noise complaints.
Since our budget was about zero, our friend, Ken, offered us a chance to record at his grandfather's 100-year old house, somewhere on the island of Hiiumaa. So, in September of 2017, we packed all of our stuff and drove to this old house, with no running water and questionable electricity.
The first time we started recording, we realized that we were missing a very important computer cable, that allowed us to see our computer screen. So, we had to drive all the way to the other side of the island, to a computer store. After we told our story to the guy working there, he decided to just give us the cable for free.
We had set up all the instruments and microphones next to our beds. So we woke up and immediately start recording. The recording process was quite painless, except for all the times you would get an electric shock when playing guitar. We finished all the guitar, bass and drum parts, and headed back to the mainland.
Then we went to Peeter Salmela's studio to record all of the vocals, keyboards, and string sections. About a year later, we had finally finished producing and mixing this album. Then we sent it to Nashville to get it mastered. Our debut album "The Recent Past" will be out on all digital platforms on the 24th of May, 2019.